2021 STEM SUMMER CAMP HOT SPRINGS, MT Youth going into 4th-7th grade during the 2021/2022 school year. July 26th-27th (10:00 am—4:00pm) (2-DAYS) Hot Springs Elementary, Hot Springs, MT Register by e-mailing registration information below to
STARBASECAMP@mt.gov
, calling (406) 791-0806, or by visiting
https://bit.ly/starbasehotsprings
Youth should bring a water bottle and a lunch.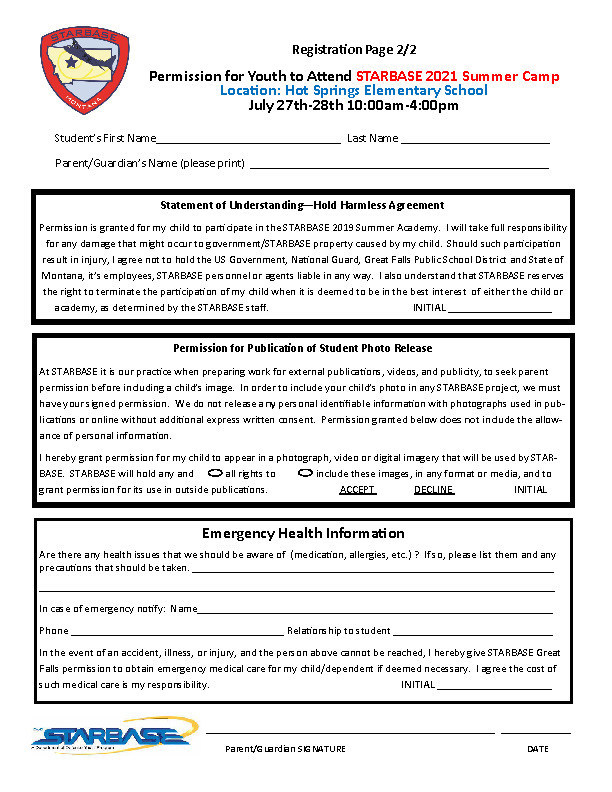 HOT SPRINGS PUBLIC SCHOOLS #14-J SCHOOL BUS DRIVERS $30 Per Route, $60 Daily Additional time may be required for Activity/Athletic Trips Activity Drive Time $18.37, Down Time $8.65 The District will pay costs associated with helping approved applicants with obtaining endorsement. Contact: Michele Bangen, Transportation Director Hot Springs Schools (406) 741-2962

DON'T MISS THIS GREAT OPPORTUNITY!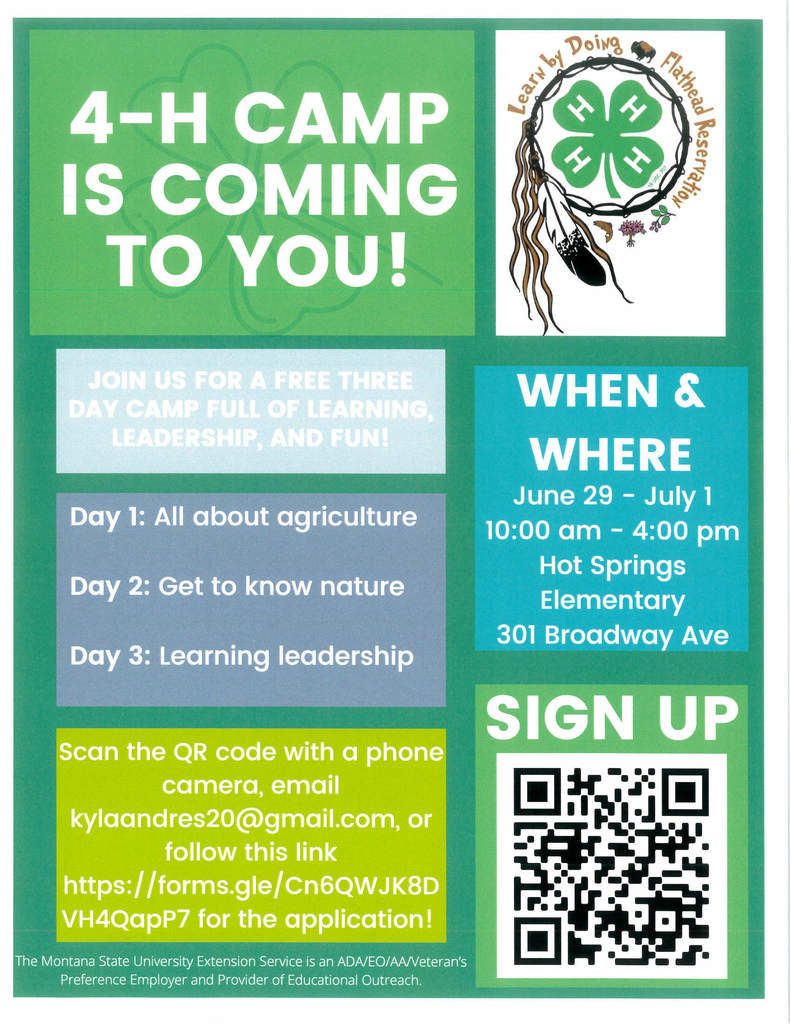 Hot Springs Schools wants to remind parents that school will be dismissed at 12:00 tomorrow. Have a great summer!

ATTN: PARENTS & STUDENTS There will be a MANDATORY Driver's Education parent/student meeting Thursday, June 3, 2021, 6pm - 8pm in the High School Library. PLEASE BRING: OFFICIAL - Birth Certificate Social Security Card COST $250

8th Grade Promotion

HOT SPRINGS PUBLIC SCHOOLS #14-J BOARD OF TRUSTEES TRUSTEE VACANCY Term Expires 5/2022 To apply submit a letter of interest to the District Office no later than 12:00 pm, June 7, 2021.

DRIVERS ED SIGNUP DEADLINE 5/27/2021. Contact the High School office to sign your child up. Must be 14 1/2 or older to participate. $250 fee


NOTICE OF CANVASS OF THE 2021 HOT SPRINGS K-12 SCHOOL DISTRICT ELECTION In accordance with MCA 20-20-415, a Canvass of the cancellation of the 2021 Hot Springs K-12 School District Election will be held on Wednesday, May 12, 2021 at 7:00 p.m. in the Library of the Hot Springs K-12 School. Dated this 5th day of May 2021 Nichol Scribner Sanders County Election Administrator

Hot Springs JMG students volunteered their time last week venting the Lonepine Cemetery.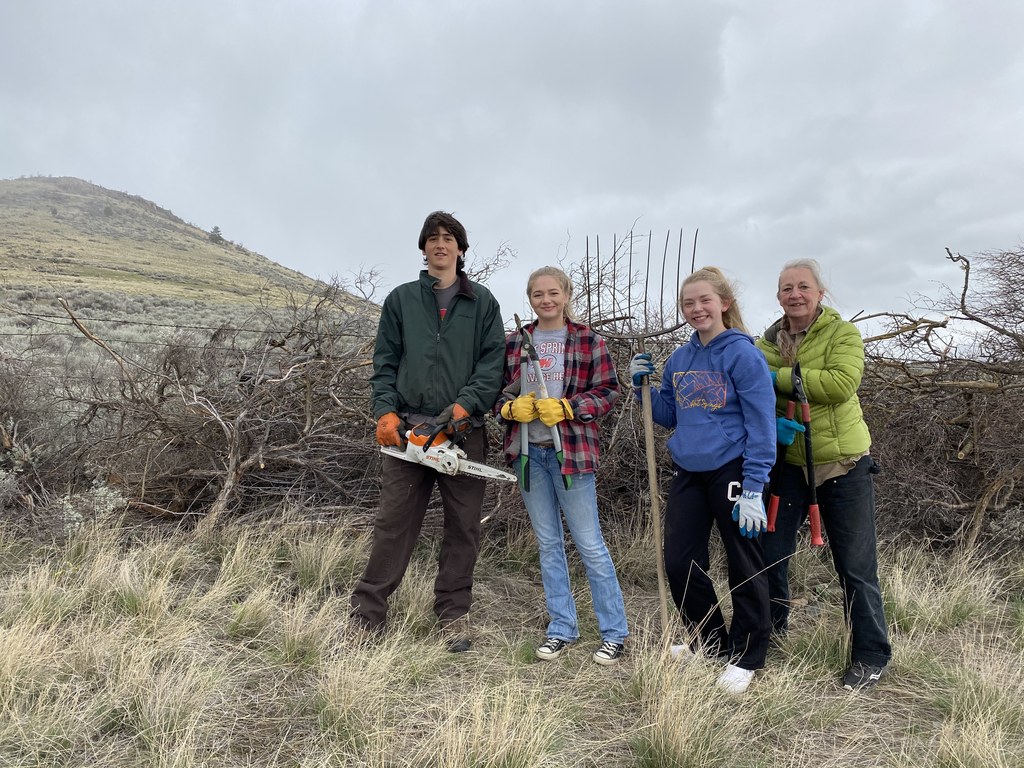 April 2021 Events


NOTICE OF SCHOOL DISTRICT ELECTION CANCELLATIONS WHEREAS, the number of candidates filing either a Declaration of Intent and Oath of Candidacy or filing to be a write-in candidate for the open trustee positions on the following Board of Trustees, in Sanders County, State of Montana is equal to or less than the number of positions to be elected, the trustee elections for the following School Districts are not necessary. THEREFORE, the necessary 30 day notice is hereby given that the School District Trustee Elections, scheduled for May 4, 2021, for the following School Districts are hereby cancelled. Hot Springs K-12 School District No. 14J Two (2) 3-year Position (Trustee) Dated this 2nd day of April 2021. Nichol Scribner, Sanders County Election Administrator

Friday, March 19, 2021, will be a virtual Friday. Please follow the Virtual Learning Guidelines & Schedule. If your child is going to be absent on Friday please notify Michele or Nancy ASAP. If you have any questions please contacted Nancy at 741-2014 or Michele at 741-2962.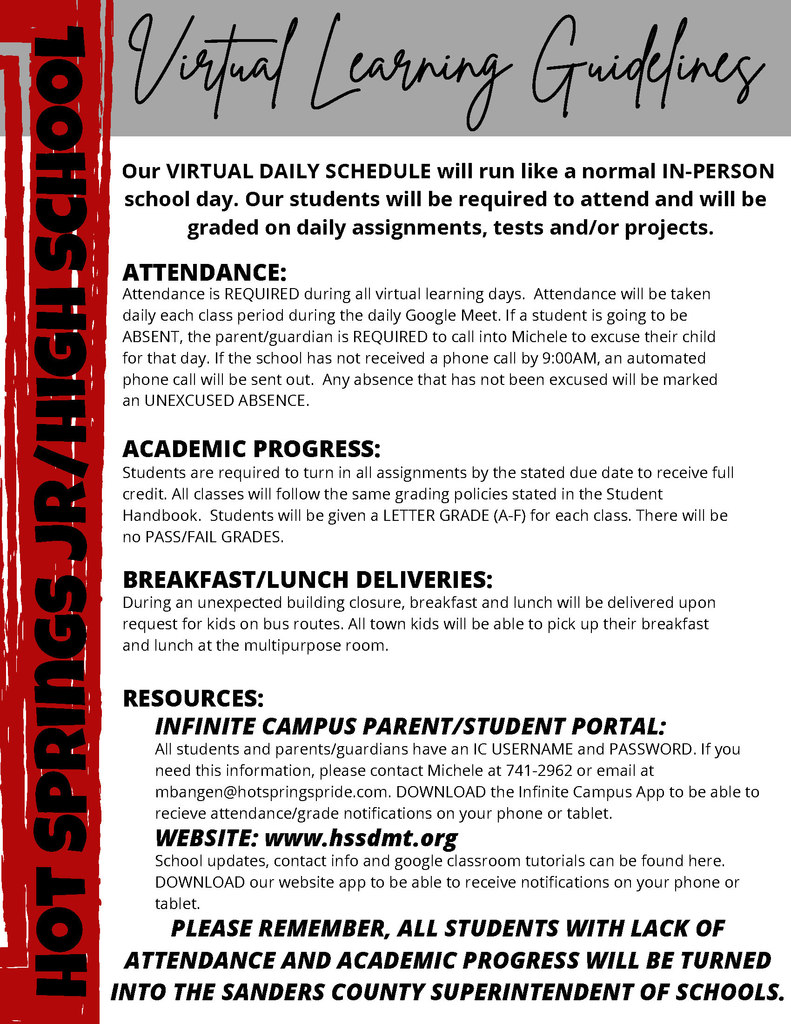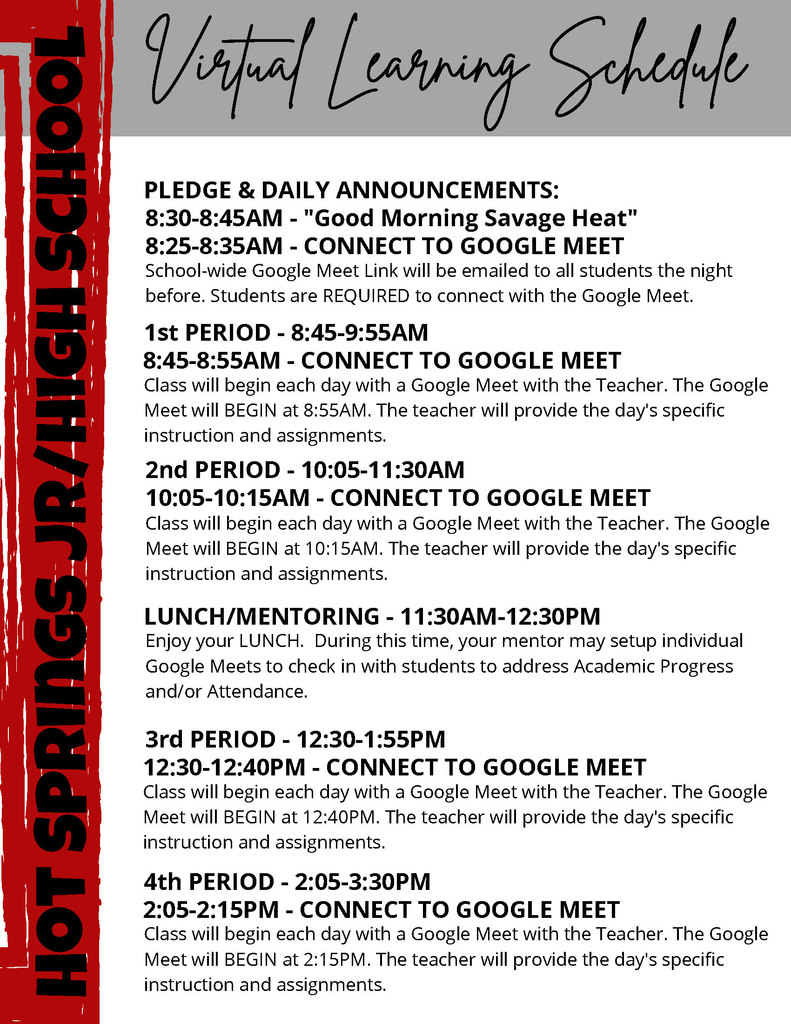 Our Mobile App is available for download! visit our website at hssdmt.org for the link.

ATTENTION PARENTS - 1ST DAY OF SCHOOL SEPTEMBER 8TH SCHOOL CALENDAR